Mã sản phẩm: CopperLink CL1314MDE Patton VIET NAM
Giá: Liên hệ
Lượt xem:

260

CopperLink CL1314MDE Patton VIET NAM
Thông tin sản phẩm
Bình luận
Overview
The CL1314MDE Multi-Drop Ethernet Extender used in conjunction with the CL1314R makes Ethernet extension a breeze. The MDE series of Ethernet Extenders allows users to replace their legacy serial coms with cost-effective Ethernet (IP) that is easy and inexpensive to set up. Featuring plug-and-play installation, the CL1314 MDE leverages existing copper twisted-pair infrastructure to interconnect Ethernet devices and networks at moderate speeds over long distances. The MDE Extender not only allows multi-drop functionality but also serves a repeater function doubling your maximum distance at every hop.

Operating over standard 0.5 mm (24 AWG) voice-grade wiring, the CL1314MDE delivers speeds up to 15.3 Mbps and extends Ethernet connections across distances up to 10 km (6.2 miles) per hop. Whether you need connect to a remote offices, kiosks, guard stations, train stations, digital sensors or IP cameras—Patton Ethernet Extenders offer the industry's optimum combination of speed and distance. Patton's CopperLink Ethernet Extenders ensure hassle-free set-up and operation, while achieving the highest possible line rate for the required distance and electro-magnetic environment. Users can "hard-set" the desired line rate via DIP switch, GUI or console Telnet.

Operating at layer 2 of the OSI model (data link layer), the CL1314MDE transparently passes all higher-layer protocols—including VLAN tagging, multicast addressing, VPN pass-through for IPsec, and all IP-video compression schemes. All common industrial protocols are also transparently supported, including MODBUS/TCP and PROFINET IO.


Applications
Typical Applications
Model CL1314MDE ruggedized multi-drop Ethernet extenders are ideal for delivering drop add Ethernet links to multiple remote locations that are beyond the 328-foot (100-meter) distance limit of Ethernet. The 15.3 Mbps throughput eliminates bandwidth concerns previously experienced with other legacy copper wired transmission technologies.

The CL1314MDE includes several user configurable line rates so that a user will get a consistent link, even in noisiest environments. Using existing voice-grade copper pairs or legacy serial circuits eliminates the expense and hassle of installing low capacitance or fiber cable.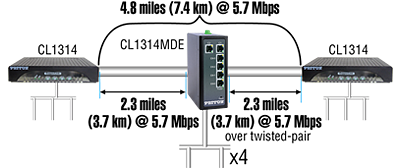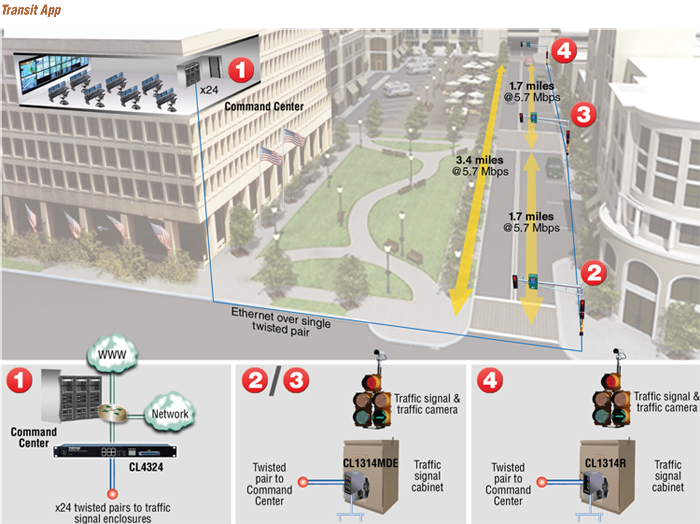 Features
High Speed Extension—Achieve up to 15.3 Mbps over 1 (2-wire) pair or 30 Mbps over 2 (4-wire) pairs.
Flexible Uses—Can be used as a long distance Ethernet extension (repeater) and/or in Multi Drop Ethernet applications.
Multi-rate Selection—Just plug the units in and select the ideal user-configurable rate for your application.
CopperLink 2-Wire Connection—Easy 2-wire CopperLink connection via built-in RJ-45 ports.
Extended Temperature— -40 to 85°C operation.
Ruggedized—Operating temperature of -40 to 85°C and optional conformal coating to protect against condensing humidity and corrosion.
Transparent LAN Bridging—Transparently pass higher-layer protocols with support for 802.1Q VLAN tagging.
Automatic Learning, Aging, and Filtering—Keeps local traffic local, ensuring efficient utilization of the long-range link.
Made in the USA—This Patton equipment is designed by Patton engineers and built in our Gaithersburg, Maryland facility.

 
Chart based on 24 AWG (.5mm) one cable pair per hop

Line Rate

K Feet

Miles

km

192K

33972

6.4

10.4

512K

33188

6.3

10.1

1024K

29453

5.6

9.0

2048K

23332

4.4

7.1

4096K

16093

3.0

4.9

5696K

12098

2.3

3.7

8192K

9710

1.8

3.0

15296K

3844

0.7

1.2
Sản phẩm khác